The GXL88 controller can do all that the previous (GX8, GXL8, etc) did, but much more.
ANY change on Inputs, Voltages, Temperatures, Level, Pressure, Time, etc, can force switch any chosen output(s) and send SMS(s) to any cell phone or call any phone. All switch and alert levels (thresholds) are programmable.
GXL88 has several functions, from simple to specialized, but only a few are generally needed on most common installations. Non-used functions will simply be left unprogrammed.
8 Protected Inputs. Low / High level. Connect to GND or left floating.

*
3 Inputs Voltage detector 0 to 15V or 240VAC via adapters.
5 Voltmeters. 1 internal. 3 from 0 to 16V and 1 up to ±80Vdc.
2 Thermometers. 1 internal and 1 external. (up to 4 external thermometers).

**
4 Relais OUPUTS of 10A each. One R4 is inverter
.
( ±3000W maxi!).

*
4 Digitals Outputs low/High levels (to be selected on the inputs 5 to 8).

*
3 Polyvalent, multi purpose analog sensors inputs (up to 4 sensors).

**
3 inputs for 0-5V and (0-10V-50%) or two 4-20mA probes and/or any other probe.
*

Inputs and Outputs can be renamed to wanted names (for more meaning on alert).
**

The three multipurpose
inputs can be configured for different kinds of sensors.
Pressure, temperature, very Low/High voltage and current measure etc...
1 Sensitive microphone on board. Can be activated on alarm or alert.
1 Radio GSM + GPRS global 4 bands and antenna with 10 feet cable.

1 SIM holder S1(standard) and SIM S2 optional

*

. Call function added!
1

*

Internet server with auto detect. UTP receptor with controls LEDs.
1

*

Lithium b
attery
holder + Batt backup for internal clock only.
1

*

32 to 75VDC to 15VDC converter for sensors power supply.

*
Can be left out if not used/wanted to reduce cost and power...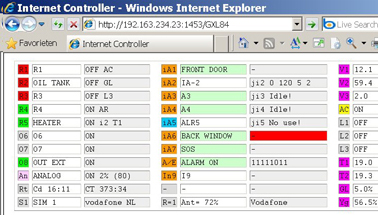 This controller
also
adds internet connectivity to the system and gives access to all the commands online via the PC or smartphone screen.
The whole system, status and configuration, is then visible on one single screen. You can work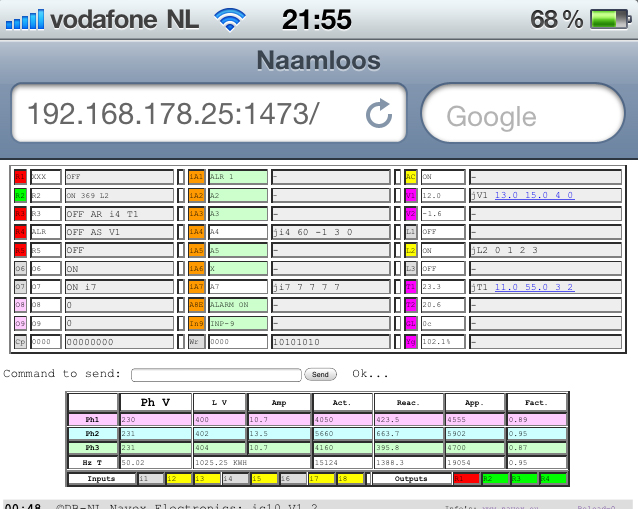 simultaneously via internet and with your mobile phone via SMS.
Most easy to use, all commands have the same format in both SMS and internet modes. Help memo is available for each command via SMS and also Online. The system works on any device, PC or smartphone, connected to the internet and able to view a web page. No need to install any program or application!
Simply use the navigator of your choice
. Please take a look at the short form manual

---
POWER METER
Measured values are; Phase and Line Voltage and Intensity, total, active, reactive and apparent Power, Power factor, frequency and total use in
kWh
.
This
energy meter can also be used stand alone with 1 to 3 CTs...
The Power Meter can also be connected to the
GXL88 extended
SMS/GPRS/Internet controller.
A command to
the controller will immediately
reply
with all full list of the energy measure,
immediately to your cell phone as SMS or WEB page!
The controller can also be easily configured for an automatic repetitive emission of
Energy
Status
. More:
English
Francais
New LONG RANGE WiFi receiver! Antenna and
receiver in one. USB to PC. Connect to the internet
from hundreds of meters to kilometers via Hotspots,
free Acces Points, or ADSL modems and routers.
Still looking for free internet without subscription or
other cost? Click
here!